It is that time of year again to tour the preschool and begin registration for the 2019/2020 school year!  We will have an Open House on Thursday, January 31st from 6:00 PM until 7:30 PM.  This will be a good time to come and tour the classrooms,  meet the teachers and get information about our programs.  You are invited to come anytime from 6:00 to 7:30.  If you are not able to come on this night, please feel free to call or email to schedule a tour during school hours.
Registration days will be as follows:
Alumni Families:  Tuesday, February 12th 9:00am
Open Registration:  Monday, February 18th 9:00am
This is a first come first served process.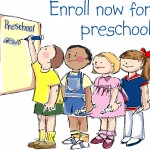 A wait list will be started if all spots are filled.
There will be a $150 per child nonrefundable registration fee due at the time of registration if a spot is obtained.