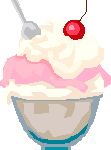 Everyone is invited to attend our 4th annual Spring Fling!  Come join us for a night of food, fun and fellowship!
When: Friday, April 11
Time: 6:00pm – 7:30pm
Where: APLC Fellowship Hall
What: Free ice cream sundaes, Hot dog dinners for $2.00, and Carnival games
We will be drawing for the basket raffles and having an art created by the kids auction!  Hope to see you all there!